Expensive

– increasing

Heavy – up to 35kg dead weight

2 Tellap Sleeves = 2kg;
Transport product not pallets;

ISPM 15 treatment cost

Damage:

 

Splinters;

Nails;

Contamination;

Pallet exchange costs

Increasing disposal fees
A Year of Wooden Pallets (in millions)
Each year, about 325 million wooden pallets are lost, abandoned or dumped in North America's Landfills.
That's equal to:
155 square miles, enough to cover Washington DC more than twice;
246 000 Miles of pallets placed end-to-end, enough to circle the globe nearly 10 times
A single stack of pallets 20 518 miles high.
Optimise transport costs:

Increase Payload;
Maximise Product;
Minimise Packaging;
Reduce Freight Cost PMT.

ISPM15 compliant

One less stock item

Reduced storage area

No pallet collection:

Exchange Costs;
Disposal.

Reduced Accidents:

Clean up time
Less Labour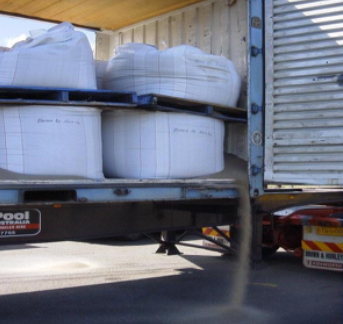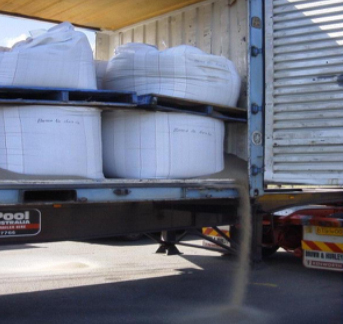 Shipping – Transport – Storage Savings
Reduce freight rates:

Increase payload;

maximise space (save up to 30kg pallet weight).

Reduce storage space:

Improved stack height increase load and storage stability.

No fumigation costs

Safe single operator handling

Rack compliant
Workplace Safety:

Less accidents, less manual lifting, reduced injury;
Less cleanup. trip points;
Increased safety in container load, unload;
Increased stability, bag sits on base.

Load carried close to ground:

Improved stability, vision

Reduced Spill:

No Nails;
No Broken Boards;
No Splinters.
Recycle PP sleeves

Reduce damage:

Less Spill;
Minimise Contamination.

Reduced packaging waste

Reduced packaging waste:

Hazardous waste issues (Copper Chrome Arsenate)
Cost Savings / Efficiency

:

Transport, shipping, storage, labour, safety

;
Less damage, contamination;
No pallet exchange fumigation or disposal costs.

Safety:

Less accidents, increased stability, increased productivity

Environment:

Recycle, reduce packaging waste