Tufbag is a manufacturer of underground support systems for the mining industry. As one of the largest manufacturers of woven polypropylene products in Africa, we provide the highest level of quality in everything we offer to our customers. Since our inception, the market for mine support systems and mine support products has increased exponentially, allowing Tufbag to do what we do best, meet the growth in various market sectors and in turn the needs of our customers.
We proudly introduce our underground cementitious support products and systems manufactured for the mining sector by way of woven polypropylene bags that are high pressure filled with a cementitious grout to create column-type supports which are designed to prevent underground collapses.
Underground Mine Support Bags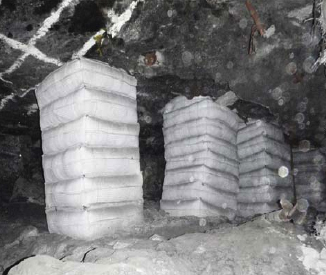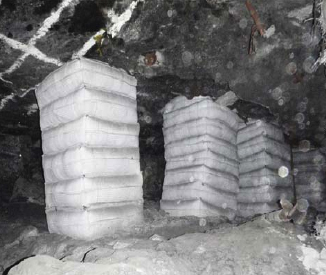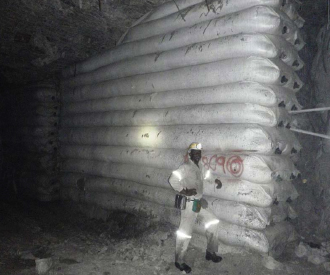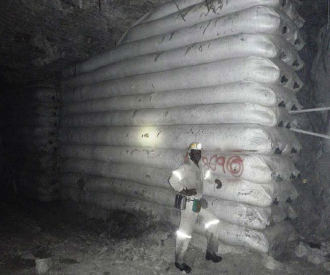 What are they made from?
Tufbag's woven bags may be made of polypropylene materials. The bags are manufactured with a double fabric layer, which makes the bag strong enough to offer continuous support for your operations.
The durable material of these bags is woven together in a webbing textile that ensures that they can withstand the demands placed on the systems through the pressurizing process as well as their end purpose of supporting your ongoing underground functions and movements.
How do they work?
The bags are reinforced with strategic webbing woven into the bags in order to provide the support systems with a high compressive strength that you can rely on. These bags offer support for a variety of specifications.
Our mining support products are built to be placed in various arrays of underground mines. Tufbag has successfully supported structures and operations for years and shall continue to proudly do so.
Reliable & cost-effective underground mining support systems for small & large operations
With Tufbag mine support products and services, our guarantee is tied together with our mission to deliver reliable levels of quality in everything that we do and provide for our clients. From FIBCs or other finished services and systems, our aim is unrelenting when it comes to meeting and exceeding your expectations. Our commitment to continually advancing our technology and services to meet operation requirements remains steadfast in all that you can expect from us.
We ensure this by providing products that do what they are supposed to while outlasting your expectations.
Quality assurance
Quality is our number one priority, with a comprehensive in-house lab dedicated to the testing of all products and components. To put our customers at ease, we are able to guarantee this by tracking each step of the production process so that in the highly unlikely event of a flaw, Tufbag can follow the breadcrumbs through the production funnel, all the way back to the raw material, to identify and reverse the problem.
Tufbag, specializing in the production of Bulk Bags, Dunnage Bags, Container Liners, Mine Support Systems and more polyethylene and polypropylene support solutions for you, our customer.
Want to know more? For further information please get in touch.